Stainless Steel 'Cow' Trolley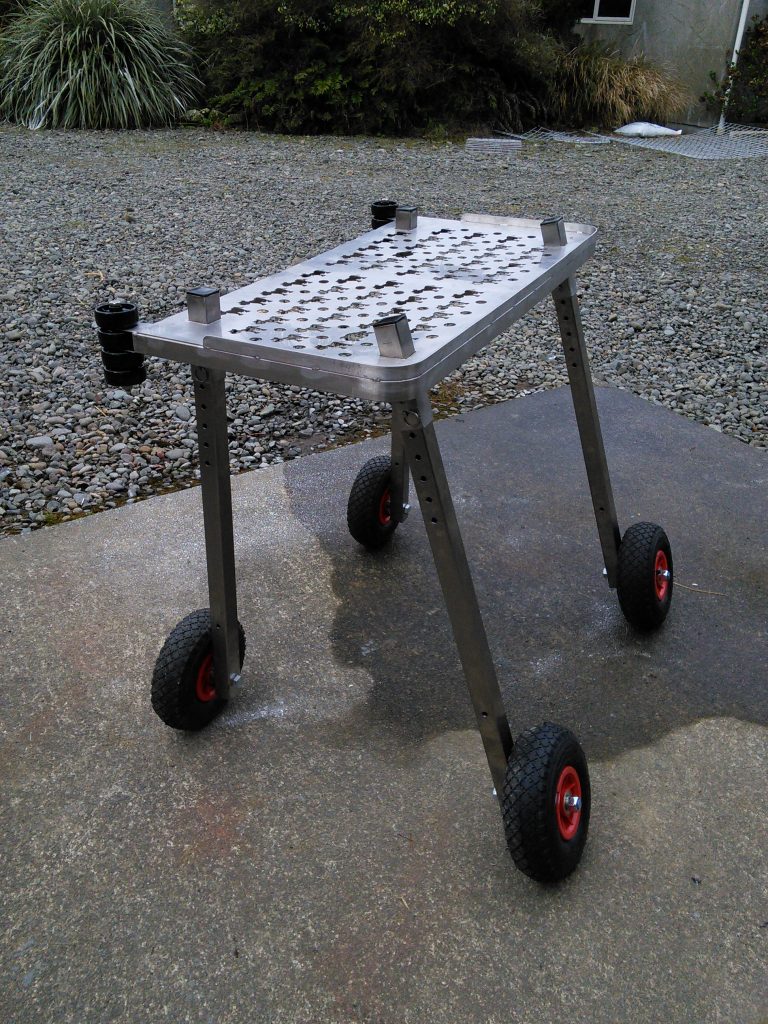 Our Stainless Steel Dairy shed trolley. Used in mainly herringbone sheds for working at tail height in the pit. This trolley is adjustable height, meaning you can set the height of it to either be flush with the shed platform height or adjust to the comfort of the user. The unique top is functional too, providing grip and also allowing muck falling on it to fall thru it rather than build up.
"Having used a number of trolleys for pregnancy testing, I can say that Feral Forge's one is by far the best! It is lightweight, height adjustable and can be easily packed into the back of the ute so no need for any trailers. The best part though would have to be the fact that it goes the whole row without needing any straightening! " James (Whangamata Vets)
Dimensions : Top is 950 wide x 465 deep, height adjustable from 350 to 930mm.
Rounded rear edge allows the trolley to brush past the hanging cups and hoses
The rear legs angle out underneath the hoses meaning a wider and therefore more stable base
Large Pneumatic (or there's a solid rubber option) wheels mean that a tiny stone will not jamb up your wheels and have you flying off!
The trolley is un-braked – however you can adjust how free flowing the wheels are by tightening or loosening the tension on the axle bolts, rest part of your foot on the platform and your in business!
Trolley dismantles easily and quickly for those of you needing to travel with it
The series of wee black wheels on the side ensure the trolley maintains it's distance off the pit wall over the length of the shed
These are AWESOME!. Designed by a Scanning Technician with over 20 years experience – He knows exactly what works out there.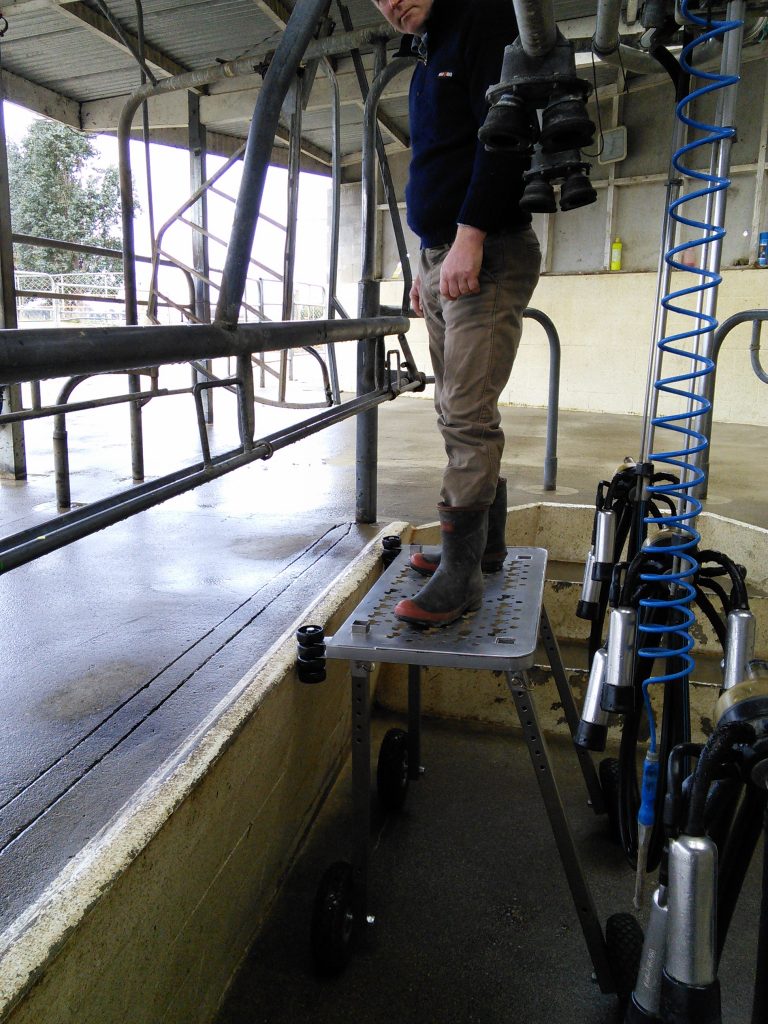 Economy Dairy Shed Trolley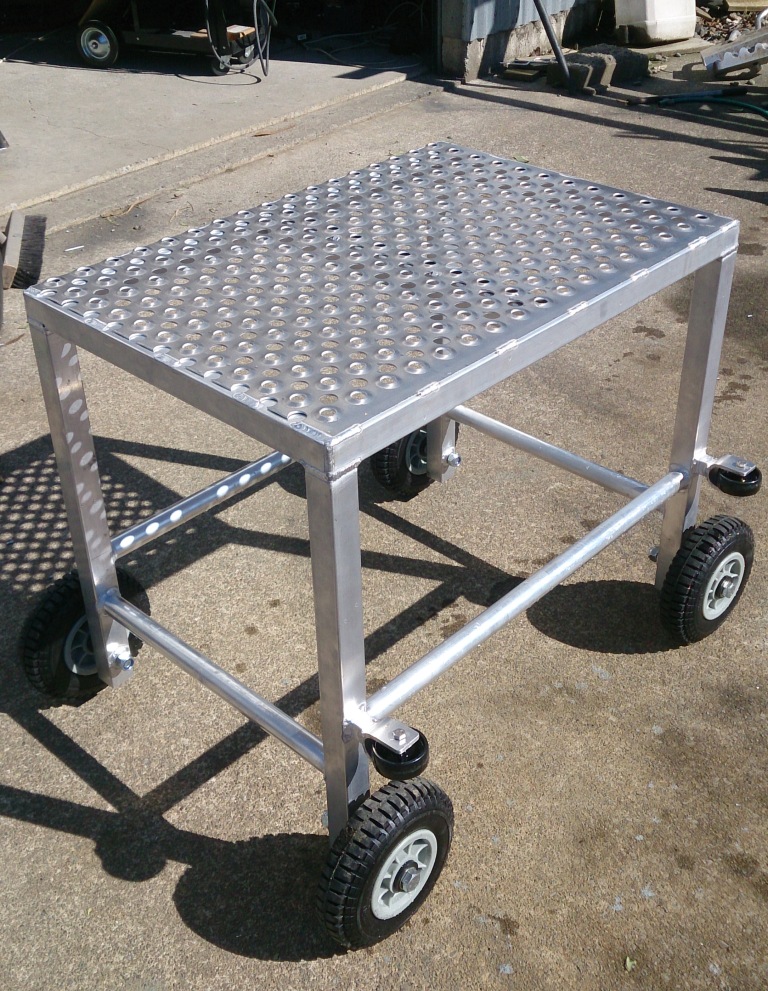 Our Economy Dairy Shed Trolley, designed as an alternative to the 'Moo" trolley for those of you not requiring all the features that come with the 'Moo' trolley.
Made of quality grade aluminium, this trolley is aimed at Dairy Farmers who don't need to travel their trolley. If you let us know the height of you shed platform, or the height you want to work to, we will fabricate a trolley for you custom to your shed.
Super Strong , provides a solid stable platform to work from
Standard Size : Top is 800 wide, 550 deep, trolley is 750mm High
Can be made custom to your shed for usually no increase in price.
Do I need to even mention 'long life'? – You bet!
Braked Economy Trolley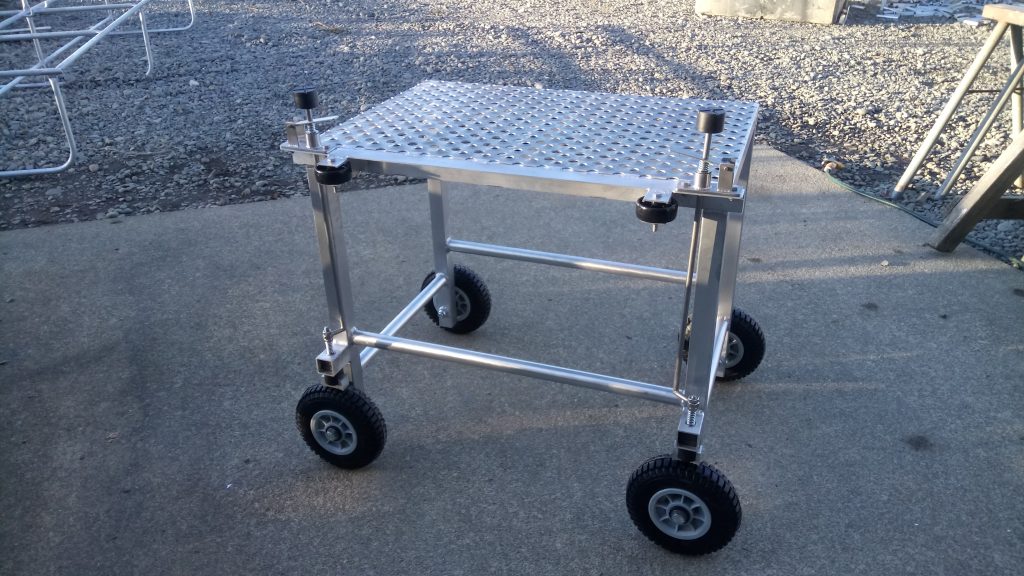 This is the new braked version of the "economy" trolley. Made to the height of your dairy shed pit, it has foot operated brakes on both wall wheels. Stand on the knob to engage, tap the stainless lever with your foot to release – easy!.